PRE-ORDERS FOR FIRST PRODUCTION HAVE SOLD OUT!
SIGN UP TO OUR MAILING LIST TO GET NOTICE ABOUT THE NEXT ROUND OF PRE-ORDERS
BRINGING ELECTRIC POWER TO BMX
They said it couldn't be done. Kids have been dreaming of an electric powered BMX bike forever. We have seen one-offs and basement projects come and go but they are either too expensive or just don't work… until now.
Introducing the first affordable consumer electric BMX from Life EV. The result of a lifetime of dreaming and years of hard work, our eBMX bike rides like a top-of-the-line BMX and has the speed and distance capabilities of a state-of-the-art eBike.
Stay up to date with us on Facebook: https://www.facebook.com/LifeEbikes/
eBMX-4™
 FRAME
TIG Welded 6061-T6 Aluminum
 STEERING
FORK
Cromoly Rigid
HEADSET
Zero Stack 44mm Cartridge Bearing
STEM
Aluminum 1 1/8″ Threadless
HANDLEBAR
BMX Riser
GRIPS
Kraton Rubber
 SEATING
SADDLE
Velo Comfort
SEATPOST
Aluminum 27.2 w/ Integrated Mount
SEAT CLAMP
Aluminum 31.8 Reduced Friction
 GEARS
Single Speed
CRANKSET
44T x 160mm Aluminum
BOTTOM BRACKET
Sealed Bearing 68 x 110 Square Taper
PEDALS
Nylon Platform 9/16″ Spindle
CHAIN
KMC Z410 1/2″ x 1/8″
FREEWHEEL
Single Speed 16T
 STOPPING
BRAKE CALIPERS
Avid DISC
ROTORS
Avid G2 CleanSweep
CABLES
Stainless Steel w/ Braided Housing
 WHEELS
RIMS
Magnesium 20″ x 1.95″
RIM TAPE
Kenda 20″ x 25mm Rubber
TUBES
Kenda 20″ x 1.95″ Butyl
TIRES
Kenda Kontact K841 20″ x 1.95″
 ELECTRONICS
MOTOR
Rear FSG 300W
CONTROLLER
17.5A
POWER APPLICATION
Variable Throttle
BATTERY
36V 6Ah
CHARGER
Smart Auto Off – 29.4V 2A
 SPECS
SPEED
20mph*
RANGE
15-25 Miles
WEIGHT
36LBS
 PRICING
RETAIL
$1,399
INTRODUCTORY
$899
* eBMX-4™ (20mph) – must be 16 years or older to ride 
BY ADJUSTING THE HANDLEBARS THE EBMX CAN ACCOMMODATE
RIDERS OF MANY DIFFERENT SIZES
THE EBMX-4 HAS A RIDER WEIGHT LIMIT OF 220LB
LIFE EV ELECTRIC BMX TESTIMONIALS.
Epic test run at NYCs legendary #5050skatepark with Pro Rider's
Dom Simoncini and Austin Aughinbaugh.

LIMITED INTRODUCTORY PRICING AT 

$899



KEY FEATURES
Built in the USA by Prodecotech, from Globally sourced components. An Established Manufacturer of Electric Bikes based in Florida
Compact and Nimble, Great for Commuting Around the City
20mph Model (eBMX-4™)
Built with Quality Components such as Disc Brakes by Avid, Battery Cells by LG, Tires by Kenda, Saddle by Velo just to name a few. Scroll down to see more specs.
2 Year Warranty from Prodecotech, for Campaign Backers Only!
EBMX COMPONENTS
FRAME – Designed for High Performance Endurance
with 6061 T6 Aluminum
Made of aircraft grade 6061 T6 aluminum alloy with TIG welding. Oversized Down tube and Top tube for added strength and utility. Design fundamentals from day one were high performance, high power, high stress and high speed in an eBike format. The frame's Down tube was developed to integrate the battery and SMART controller, protecting them in a 2.8mm thick wall of aluminum alloy. Dropouts are a thick 8mm adjustable torque plates with DISC Brake mount incorporated. Plates attach to the frame's also 8mm thick dropout mounts. Frame is fatigue tested to over 100,000 cycles.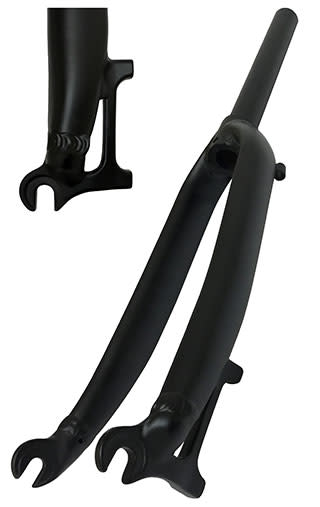 FORK – Large Diameter 1.4" 6061 T6 Alloy Legs
Aircraft grade 6061 T6 aluminum alloy TIG welded. Built with oversized 1.4" diameter legs. Steering via a 1 1/8" steerer tube and Post Disc Brake mounts made of solid alloy TIG welded to the legs and dropout. Forks are painted to match the frame colors.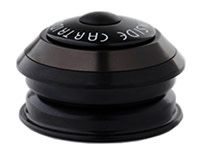 HEADSET – Zero Stack 44mm Threadless Cartridge Bearing System
Semi-Integrated Zero Stack 44mm cartridge bearing system. Threadless 1 1/8" steerer with anodized alloy cone & top cap. Available in black only.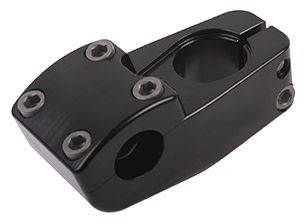 STEM – Solid Aluminum 1 1/8" with 4 Binder Bolt Face Plate
Solid aluminum alloy with 48mm extension and 30mm height. Threadless mounting over a 1 1/8" steerer tube. 4 bolt face plate for secure mounting. Available in black only.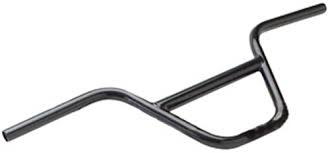 HANDLEBAR – Cromoly Wide Stance with 8° Sweep and welded Cross Bar
Cromoly for strength and 25"-27" wide with the right amount of sweep at 8°. Added welded cross bar for strength. Available in black only.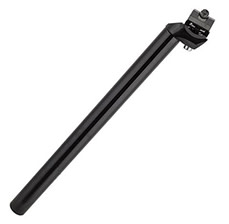 SEAT POST – All Aluminum 27.2 x 350mm Post & Mount
Aluminum alloy seat post with an alloy integrated mount. Quick single bolt adjustment for a quick fore & aft plus angled adjustment. Available in black only.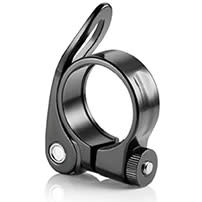 SEAT CLAMP – Aluminum 31.8mm with Reduced Friction Lever
Quick release 31.8mm aluminum alloy incorporating a reduced friction lever. Available in black only.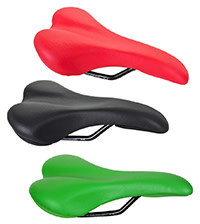 SADDLE & GRIPS – Velo Comfort
Velo BMX full size comfort for that extended trip. Available in black, blue, green, orange, pink or red.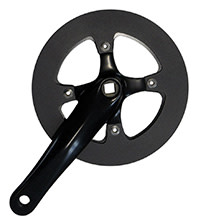 CRANKSET – Aluminum 44T x 170mm Square Tapered
Aluminum 160mm crank arms matched to a 44T chain ring. Available in black only.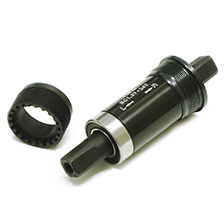 BOTTOM BRACKET – Sealed Bearing 68mm x 110mm Square Tapered BB
Sealed cartridge bearing shell design with square tapered spindles.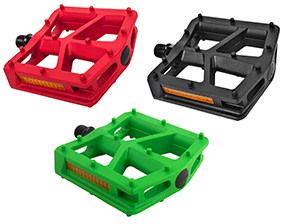 PEDALS – Full Size BMX Platform on 9/16" Spindles
Composite full surface platforms with integrated grip pins on 9/16" spindles. Available in black, blue, green, orange, pink or red.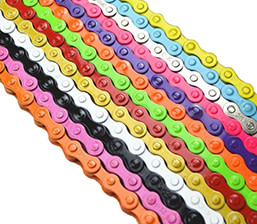 CHAIN – KMC BMX Z410
KMC's Z410 1/2" x 1/8". Considered the industry's perfect BMX single speed bike chain. Incorporates KMC's Anti-Drop feature. Available in black, blue, green, orange, pink or red.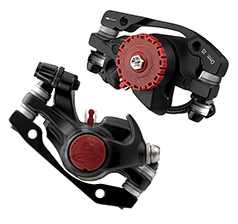 BRAKES – Avid BB5 DISC Brakes w/ Avid FR5 Levers
Avid BB5 DISC BRAKES are an industry "BEST IN CLASS" offering great stopping power. High performance Melt-Forged alloy caliper body sits on Avid's patented Tri-Align Caliper Positioning System for that always perfect adjustment. Tool-free pad adjustment and pad replacement. Combined with Avid FR-5 Reach Adjust levers incorporating Bend Zone™ technology.
ROTORS – Avid G2 CleanSweep 160mm
Avid G2 CleanSweep solid stainless steel 160mm rotors. Clean Sweep design helps keep the dirt and grime free from the rotors and pads.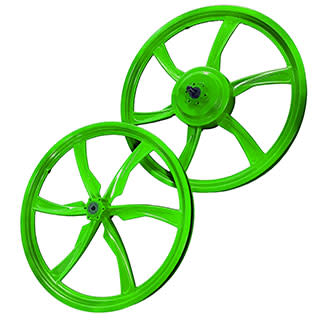 RIMS – Magnesium Strong 20" x 1.95"
Magnesium casted strong in 20" x 1.95". Specially developed for ProdecoTech's Integrated Geared HUB motor system. 6 bolt disc brake mounts. Maintenance Free, never needs trueing! Available in black, green, purple or red.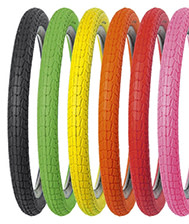 TIRES – Kenda Kontact K841 20" x 1.95"
Kenda Kontact K841 20" x 1.95" proven success freestyle BMX unidirectional tire. Knurled surface tread design for low resistance rolling but high traction and control. Wrap around tread design for improved cornering and large lean-over control. Available in black, blue, green, orange, pink or red.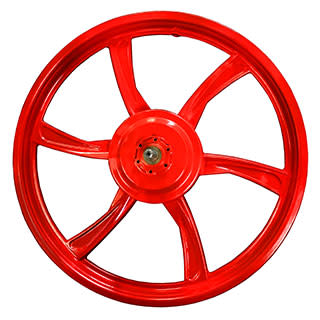 MOTOR – ProdecoTech Geared Free Spinning 250W to 420W
Integrated magnesium wheel rim HUB design with ProdecoTech's 250W (330W Peak – 12mph) or 350W (420W Peak – 20mph) Free Spinning Planetary Gear motor system. Free spinning rides just like a traditional bike and power on demand engages the motor. Includes 16T freewheel.

EBMX-4 ™ : 20 MPH MODEL WITH THROTTLE
Control your Power. Twist the throttle for Power on Demand. The more you twist, the faster you go!

BLUETOOTH SMART SYSTEM – Link to your SMART Phone
Smart App link to speed, power, distance and more. Know how far and how long to go. Check your speed, distance and battery capacity on your phone. Smart maintenance and service feature included.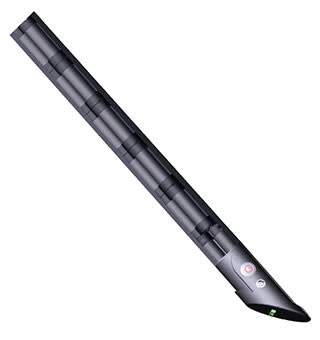 BATTERY – 18650-29E (NCA) in 8.7Ah (225Wh)
Integrated down tube lithium ion incorporating proven 18650-29E high grade NCA cells, Built to Last. Available in a 8.7Ah (25.9V8.7Ah 350-420W motor – 20mph), depending on power and speed. Charges to 29.4V. Built in SMART BLUETOOTH BIKE Monitor and motor controller. Slides in and out of the down tube for easy replacement.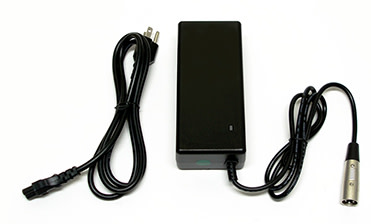 CHARGER – SMART Auto Shutoff 29.4V2A (60 Watts)
SMART Charger with automatic cutoff. Charges at 29.4V2A (60 Watts per Hour).
 SPEED: 12 to 20mph
RANGE: 25-40 Miles
WEIGHT: 36lbs