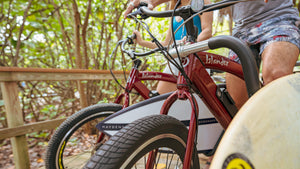 Yes. Electric bikes follow the same laws and regulations as regular bicycles.
Life EV electric bikes are Class 2 e-bikes which means their top speed is 20 MPH. Our bikes are operated by the rider moving the pedals with the motor giving some assistance. After reaching 20 MPH, the motor phases out. An ebike can be street legal in all 50 states as long as it the motor alone does not exceed 20 mph unassisted.
1. Our current models are equipped with a 14.25Ah battery that can reach distances of up to 35 miles per charge depending on variables like rider weight, terrain and how much you pedal.
2. There is a difference between city e-bikes and off-road trail e-bikes. Determine how you will use your ebike before purchasing. City bikes are best for commuting while off-road bikes are best for trails.
3. Assess your reaction time. Most ebikes can reach up 30 MPH going downhill and can be dangerous if you are not prepared to stop in time and be aware of your surroundings.
4. Compare different specs of ebike models and choose the one that fits you best. The weight of the ebike and the battery can be a deciding factor if you have to lift it for storage or transportation.
5. Battery charge time. Life EV batteries charge for 4-8 hours depending on the battery capacity.
In Florida, you may ride your ebike everywhere a regular bike is allowed. According to Florida regulation 316.20655 (7) "An operator may ride an electric bicycle where bicycles are allowed, including, but not limited to, streets, highways, roadways, shoulders, bicycle lanes, and bicycle or multiuse paths."
e-bike weather & conditions faqs
Our e-Bike models are designed with increased water resistance; however, it is important to keep your e-Bike protected from water. You should avoid whenever possible riding your bicycle when raining. Riding a bicycle in the rain is like driving a car in the snow. You will not be able to stop as quickly and must leave a larger distance between you and the obstacles around you. Your brakes will not perform at peak efficiency when they are wet. You will not be able to turn as sharp without the danger of slipping. You must also ride away from or be cautious around painted lines, potholes, sewer or drain grates, railroad crossings, bridges, wet leaves and any other area with a slippery surface or wet terrain.
E-bikes can go on hard sand. However, like all bikes, they will be difficult to maneuver if ridden on SOFT sand since the tires will dig in and/or get stuck.
Electric bikes are treated the same as regular bicycles. Florida legislators passed a law in 2020 allowing e-bikes to go wherever standard bicycles are allowed.
Yes. In Florida, e-bikes are treated the same way bicycles are and should follow the same rules and regulations. Read more about Florida e-bike regulation 316.20655.
Many customers use their e-bikes for fun, pleasure, exercise and
commuting. Electric bikes do not require gasoline or insurance which provides huge savings over time. They are also great for the environment!
Some e-bikes can reach speeds in excess of 50 mph. Our models comply with the Federal speed limit of 20 mph which makes them legal to use on roads in all 50 states.
Step-through e-bikes are extremely easy to get on and off which is beneficial for those with a limited range of motion, riders carrying parcels or those who find themselves in stop-and-go-traffic. Step over e-bikes are generally for those who expect to ride on different terrains.
Our e-bikes are road legal in all 50 US states and do not require any special license or registration for use. Please check with your local government as they may have their own local regulations in place.
All Life EV models are throttle controlled. This gives you the
power of choice and does not require that you pedal. You can choose to use throttle only, pedal only, or even do both at the same time.
Most electric bicycles do not exceed 20 mph. They are as safe as a traditional bicycle. All normal safety precautions should be followed when riding any bicycle.
You may visit any bike shop nationwide for service on your bike. For additional assistance you can also call us at 1-800-897-1195.
Our Chill Life Series Genesis R 400 is the most comfortable Life EV e-bike available. It is also the lightest weighing 47lbs + battery 7.2 lbs. It features a step-through design providing the most accessible way to get on the ebike. Our high-quality tires and suspension will absorb the shock for a smooth, pleasurable ride. It is an ideal choice for seniors and those who just want to cruise around.
When it comes to electric bikes for seniors we recommend to pay attention to the e-bike frame, weight of the ebike and the battery, suspension, battery life and range, and the saddle. Naturally, an e-bike battery will increase the overall weight of the bicycle which means that it may not be the right choice for someone who can't lift objects weighing more than 40lbs. Often times, advertisements for e-bikes will mention inaccurate battery life and range so it's important to be aware of that. Our e-bikes can reach a speed of 20 MPH on flat ground and have a range of 25 miles if you were to not use the pedals at all. Our suspensions features up to 170mm travel which means it is great for absorbing big hits easing the strain on the knees and spine. Our e-bikes come with a velo plush saddle and are comfortable for most people. There is always an option to put on a bicycle cushion for even more comfort.
Life EV electric bikes use direct-drive motors which essentially run on magnets and are therefore very quiet and are comparible to a regular bicycle.
It costs approximately $10 a year to power your e-bike if you commute 200 days a year. This is only pennies as compared to the same commute when using a motor vehicle.
Electric bikes utilize an on-board battery and electric motor
for power. Using a throttle or pedal assist system you can engage the motor and the bicycle will be propelled forward.
The weight of e-bikes depends on the model. Life EV bike weight:
1. Genesis R 400 Step-through: 47 lbs + battery 7.2 lbs
2. Phantom XR: 49 lbs + battery 7.2 lbs
3. Islander 400: 48 lbs + battery 7.2 lbs
4. The Off Road Outlaw 400: 52 lbs + battery 7.2 lbs
We have a downtube mounted battery system. Generally, you will find rear mounted battery systems on folding bike models and downtube battery systems on rigid bike models. Our downtube mounted battery comes in 36 volts with a 14.25 ah battery capacity.
With proper maintenance and care you can expect many years of reliable use. Our batteries can last up to 8 years.
Yes. Our models are designed to be pedaled at any time of your choosing.
Charge the battery with the charger provided with your e-bike. Charging time vary between 4-8 hours depending on the battery capacity at the time of charging.
There are several determinant factors that can help you understand how often to charge your electric bike.
1. Battery capacity. Life EV e-bikes provide 25 to 35 miles of range. More pedaling and less stress on the motor will help extend range even further.
2. Type of terrain. Riding uphill will drain your battery more to provide pedal assistance. The harder the motor has to work, the more battery power/range it will consume.
3. Weather conditions. Driving against the wind, similarly, to driving uphill will draw more current from the battery.
4. Your weight. The motor will draw more current from your battery to compensate for a heavier load.
Our batteries are 36v 14.25ah. 36 represents voltage. 14.25 represents capacity.
36x14.25= 513 watt hours (total capacity).
On average an e-bike uses 20WH per Mile. So 513/20WH = 25.65 Miles per charge. The 1 mile per 20WH formula takes into account average weight, minimal pedaling, weather, hills, starts and stops, etc.
Battery wearout is unavoidable, but you can significantly improve battery life by following these tips:
1. Use the factory charger provided with your e-bike
2. Fully charge your battery before your first ride
3. Never store your battery when it is depleted. For long term storage, it is recommended to store the battery at a half charge. Check once a month and maintain a half charge for long term.
4. Avoid extreme temperatures like below 32 F or above 104 F.
5. Keep the battery dry.
6. Don't overcharge your battery. Life EV battery chargers have an indicator which turns green when the battery is fully charged. Additionally, our batteries feature a built-in LED indicator that shows the state of charge.
Yes. You can use our e-bike throttle the entire ride, but it will reduce the battery range.
E-bikes only charge when the included charger is plugged into the battery.
No, you don't have to constantly pedal an electric bike, but pedaling does contribute to the range of your battery. The more you pedal while using the battery, the more range you get.
Yes, you can ride an e-bike without pedaling although it will reduce the battery range. Once the battery runs out of power, it will be slightly harder to pedal on your own given the additonal weight of e-bikes.
If you are planning a long trip, make sure to charge the night before, but if you only take 10 minute rides, then you don't need to charge your e-bike after every ride.
Don't See your question
Please Submit Your Question