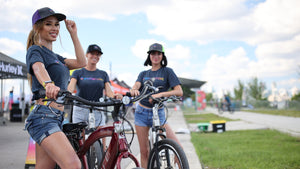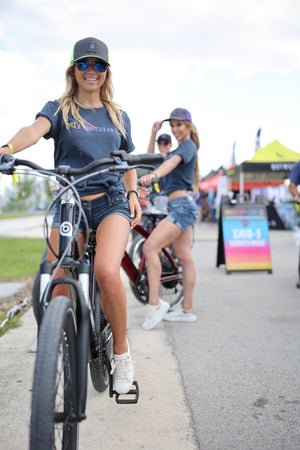 We have a ride style
for every rider.
Built With Quality, Built For you
All Life EV bikes are hand built in our Deerfield Beach, Florida facility. All carefully selected parts are individually quality inspected by our expert mechanics to ensure the highest build quality in the industry. Life EV has partnered with an all-star network of high-quality component manufacturers that read like a "who's-who" in the cycling industry. Among the more than 20 brands are SRAM, Promax, KMC, Avid, Gyes, Velo, Truvativ, Continental, and Kenda.
BUILT FOR YOU.
Quality Craftsmanship
With an eye for detail and a fierce commitment to integrity, quality, and patriotism, Life EV e-Bikes are carefully built in the USA of global components. Visit our production facility and see for yourself!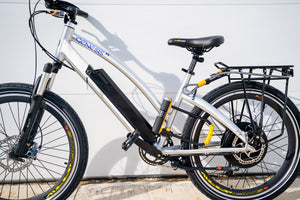 ELEVATE YOUR RIDE
PARTS AND ACCESSORIES
Do more with your ebike with our wide variety of accessories to outfit your electric bike to fit your needs.
shop all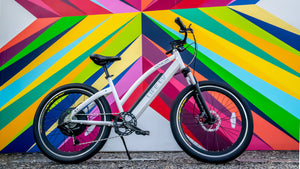 ENDLESS POSSIBILITIES
CUSTOMIZE YOUR E-BIKE
Create something eye-catching by customizing your ride with your own touch of flair.
Custom cruiser
custom step-thru
1. Our current models are equipped with a 14.25Ah battery that can reach distances of up to 35 miles per charge depending on variables like rider weight, terrain and how much you pedal.
2. There is a difference between city e-bikes and off-road trail e-bikes. Determine how you will use your ebike before purchasing. City bikes are best for commuting while off-road bikes are best for trails.
3. Assess your reaction time. Most ebikes can reach up 30 MPH going downhill and can be dangerous if you are not prepared to stop in time and be aware of your surroundings.
4. Compare different specs of ebike models and choose the one that fits you best. The weight of the ebike and the battery can be a deciding factor if you have to lift it for storage or transportation.
5. Battery charge time. Life EV batteries charge for 4-8 hours depending on the battery capacity.
Our e-Bike models are designed with increased water resistance; however, it is important to keep your e-Bike protected from water. You should avoid whenever possible riding your bicycle when raining. Riding a bicycle in the rain is like driving a car in the snow. You will not be able to stop as quickly and must leave a larger distance between you and the obstacles around you. Your brakes will not perform at peak efficiency when they are wet. You will not be able to turn as sharp without the danger of slipping. You must also ride away from or be cautious around painted lines, potholes, sewer or drain grates, railroad crossings, bridges, wet leaves and any other area with a slippery surface or wet terrain.
Many customers use their e-bikes for fun, pleasure, exercise and
commuting. Electric bikes do not require gasoline or insurance which provides huge savings over time. They are also great for the environment!
Some e-bikes can reach speeds in excess of 50 mph. Our models comply with the Federal speed limit of 20 mph which makes them legal to use on roads in all 50 states.
Our Chill Life Series Genesis R 400 is the most comfortable Life EV e-bike available. It is also the lightest weighing 47lbs + battery 7.2 lbs. It features a step-through design providing the most accessible way to get on the ebike. Our high-quality tires and suspension will absorb the shock for a smooth, pleasurable ride. It is an ideal choice for seniors and those who just want to cruise around.
★★★★★

Love my bike! You guys made the decision easy and my bike and I are trekking around having fun! Thank you!

Joan

Verified Buyer
★★★★★

I bought a custom-color Genesis model. Have been enjoying it for months. Life EV brought the same model e-bike to my home for a test drive...

Jay Feldman

Verified Buyer
★★★★★

What a great bike .I ordered two one for me and one for my wife.Not only are they well built they are great when you need help with servicing the bike. I would and will recommend this bike to all my friends.

Brad Weiss

Verified Buyer
★★★★★

I got one of my own and the bike never fails good quality, great gift for your son or daughter, most of my friends at school were asking where I got it and I referred them

Jose Torres

Verified Buyer